The Summer has been FUN!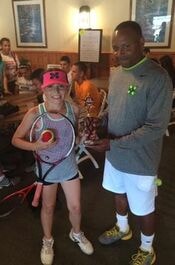 The Chagrin Valley Summer Championship,
a USTA Junior Tournament was
held at the Club July 13th through
16th. Over 50 kids played in the
10, 12, 14, 16 age groups.

See the winner, runner up and
sportsmanship award winners here.








Then came the rain! Our housekeeping staff
improvises while the Pro's help divert some
serious water. Check out this video!