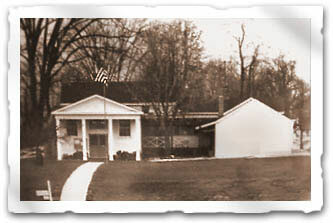 In the mid-1960s, Don Lybarger, a young, successful Cleveland businessman visited the Miami Racquet Club on his vacation. That started his dream of making a similar kind of club available to Clevelanders. Don's background in construction and the restaurant business — along with his love for tennis and entertainment — meant that this was one vacation dream that wouldn't end at the Hopkins Airport baggage claim.

The Club property was acquired in 1967. At that time it was simply a charming century farmhouse on thirty acres of land on Snyder Road and East Washington Street. The setting was strictly rural, Don Lybarger had a lot of vision.

Crews went right to work putting in locker rooms and a snack bar, installing har-tru clay tennis courts and a large concrete-lined swim lake, complete with beach. By the end of 1969 the Club had approximately 150 members. The dream was coming true.

"I realized that our members needed a place to exercise, play tennis and enjoy each others company during the cold months," Mr. Lybarger noted. Up went indoor tennis courts, member dining rooms and a banquet facility. An indoor swimming pool, a large fitness center and lockerrooms were added.

CVAC gained a reputation as a family club with extensive offerings year-round, great parties and a friendly environment. Some things never change.

In 1992 Mr. Lybarger sold the Club to Jim Rosenberger. The new owner brought renewed vision that included local, hands-on management and a commitment to continuous improvement and member satisfaction.

Many major renovations have taken place since then including the main lobby, dining and banquet areas, indoor pool, fitness center and fitness locker rooms. All nine indoor tennis courts went through a total rebuild, surface to ceiling along with the tennis locker rooms.

Jim Rosenberger is enthusiastic about the Club and its future: "We are very fortunate to have a wonderful group of members, creative and committed staff and a community that is prosperous and growing," Jim notes. "The Chagrin Valley Athletic Club has a rich history and a bright future."