Take to the outdoor courts this winter!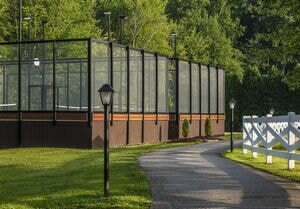 Tow Paddle Memberships to chose from. And both offer access to our nine permanent indoor tennis courts. New Paddle Courts.

CVAC's are nestled between the lake and the woods, just a short walk from the tennis building.
Heated decks prevent ice or snow from accumulating in winter, lights keep the courts open day or night. Relax afterwards in the cozy (heated) deck-side lodge and cheer on the other teams. Then head for a dip in the pool or a sauna before meeting friends and family for dinner in the Club dining room.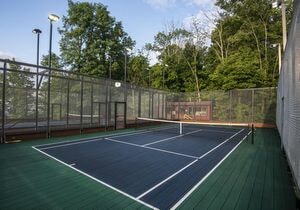 It's the perfect outdoor winter activity to chase away cabin fever, get some exercise and have fun with friends! The Club has very active groups of "Paddle" players.
Members of Men's and Ladies Interclub teams are rated and placed on teams with comparable players. These teams compete with teams at other local clubs, culminating in a championship.
CVAC hosts great parties for paddle players each year including the Chili Open.