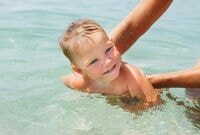 Water Babies is a class for children 6 to 36 months and their adult family member. Water Babies teaches parents techniques that help their child adjust to water and learn beginning water skills. This class is an enjoyable experience for all and can be used as preparation for progressive swim lessons.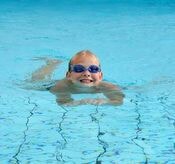 American Red Cross Learn to Swim program is a progressive learning experience designed to develop personal safety in, on and around water. Level 1 is water adjustment, Level 2 primary skills, level 3 beginning strokes and level 4 stroke refinement.

American Red Cross Lifeguarding Certification includes lifeguarding skills and CPR / PR with AED certification. Students are trained in first aid emergency response techniques. This is an excellent certification; one that may be used for a summer job or in an emergency situation later in life.