Chef Ron Romanini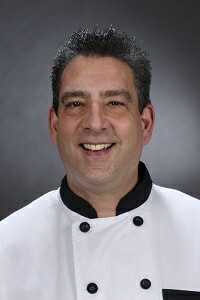 It's hard to find any other area Chef with broader training and experience than Ron Romanini. After his 1986 graduation from the Culinary Institute of America, Ron immediately traveled to Japan where he honed his skills for over a year and a half under sushi, washoku, and Master Chefs. He then went to work for the Princess Hotels in Acapulco, Mexico, Arizona and Bermuda where he mastered gourmet Southwestern and Mexican cuisine.
Returning to his hometown, Ron spent several years at Tanglewood Country Club.
Then in 1997 Romanini joined the newly opened Gavi's restaurant in Willoughby. For the next 12 years he brought his extensive background, passion and skills to bear. Gavi's, specializing in Northern Italian fare, enjoyed the status as one of the premier eateries in Cleveland. Most recently Ron established his own place in Aurora; Romanini's Restaurant and Bar.
Chagrin Valley Athletic Club is very pleased to have Chef Ron Romanini heading up the Club's food operations. His responsibilities include development of all menus, creating daily specials, buying local fresh produce when available and overseeing all aspects of kitchen operations.
Ron is recognized as one of Northeast Ohio's premier Executive Chefs. CVAC members and their guests can expect him to bring all of his talent and passion to the Club's dining experience. His extensive travel and diverse training in Asian, Southwestern and Italian flavors are evident in menu and special selections. The lunch and dinner menu can be found at cvaclub.com.